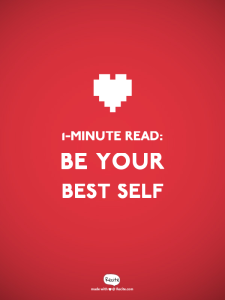 OK, but how?  Don't we all want to be our best selves?  Yet do we really know what this means?  Well, I believe it means something different for every woman and every girl.
This past Sunday, I was feeling down and self-critical about my parenting and my work.  I had a list of everything I was doing wrong.  I could feel myself slipping into this familiar hole of self-doubt.  My youngest daughter was sitting at the kitchen table and so I shared this with her.  I know that many moms feel the pressure to keep their struggles from their children, but I like to think that sharing my humanness can be beneficial to my daughters.  
After spewing my negative thoughts, my daughter said "Mom, you thinking you're not a good mom is an insult to me.  How could a bad mom have raised such a wonderful daughter?"  That got my attention.  I also liked the double-compliment in her comment; it was fine that she complimented herself too.
You see, this all started when I tried to write a blog post for my newsletter and bake muffins at the same time.  Well, I had writer's block and my muffins were undercooked and my daughter found my hair (I hope it was mine) in her muffin.  That's all it took for me to start spinning into my negative downward spiral.
Side note:  I hate to cook and consequently can feel like a "bad" mother because June Cleaver always baked 🙂 but she did not run a business and was not a single mother.
I share this with you because we are all human and we are all trying to be our best selves.  Trying means we are on our path and conscious about it.  Let's keep trying at every stage and every turn.
If you are not happy with yourself today, then ask WHY?  
What is it that you need to do differently?
Do you need to set a new goal?
Do you need to re-adjust your expectations?
So for me on Sunday, I pulled myself together and left the house.  I spent several hours getting out of my own head and stopping my downward spiral.  Today as I write this it is Monday; it is a new day and my goal is to be my best self TODAY.  If I fall short, I will be kind to myself and try again tomorrow.
What about you?
---
Licensed counselor and founder of Girls Stand Strong Michelle Kelley, LCSW, helps girls and women of all ages develop and improve their self-image, self-esteem, relationship and communication skills, emotional understanding, coping skills, the ability to handle difficult situations and people, and resiliency to create a brighter, better and more successful tomorrow. For more information about Michelle's coaching and counseling services, call (703) 505-2413 or email michelle@girlsstandstrong.com.
Testimonials
I just wanted to say THANK YOU. I left your office so inspired today.
...
To say Michelle changed our lives would not be an exaggeration. She was very empathetic and non-judgmental... She didn't make our daughter feel badly... She didn't make my husband and myself feel like incompetent parents.
...
I definitely owe my newfound confidence to Michelle. Without her, I don't know how I would've been able to come out of my horrible situation as such a better version of myself.
...
People don't understand Michelle doesn't just offer advice… which they seem to be afraid of hearing. I convey the message that the decisions you make are ultimately your own but Michelle will help you find clarity and sort through emotions.
...
We felt comfortable knowing that Michelle would be the kind of counselor that would help our daughter see the good in herself, but also question some of her choices and actions.
...
You have brought back the communication ability that I thought that I lost. You helped her understand what we were feeling and she is such a better person for seeing you.
...
Michelle, you are so right about [my daughter] and how she thrives off of feelings of accomplishment. All seems to be good now. She amazes me every day with the way she is learning to handle tough situations.
...
With Michelle's guidance, I was able to accomplish in approximately 8 months what I hadn't been able to over the past 15 years.
...
I am forever grateful for Michelle's help.
...
Thank you, Michelle, for giving me my voice and a new lease on life.
...
Nancy
Retired Arlington County Teacher
She helped me focus my attention toward problem-solving issues.
...
Laura Clancy, Owner
MuffinToppled® Fitness Coaching
Michelle is the best life coach I ever had.
...
Michelle is an excellent listener and her insights and advice were always right on target.
...
Ann
(mother of a teen girl)
She helped me in so many ways!
...
Michelle Kelly saved my life. What more can I say?
...
Sign-up for Our Newsletter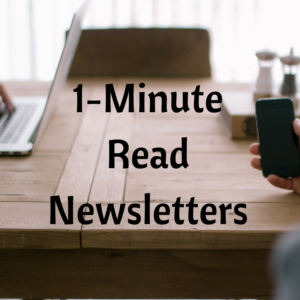 Teaching women and girls how to live with integrity, authenticity and self-awareness.