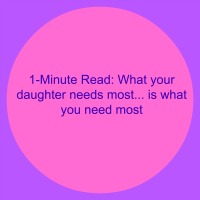 Girls and women need more confidence.
With confidence a girl will be able to speak up for herself in school and with friends/boyfriends.
With confidence a woman will be able to ask for a raise or set appropriate boundaries in her relationships.
We're not born with confidence.  We create it.
It comes from a tiny spark of confidence which we all have; it just needs fuel to grow. 
Confidence is often situation-specific.  However, if you have it in one area of your life, you can share it with other areas — such as from dancing to relationships.
"Relationship Confidence" is an essential part of your happiness.  My passion is helping women and girls build their confidence — especially their relationship confidence.
Interested in rating (and improving) your "Relationship Confidence"? We should talk.
---
Licensed counselor and founder of Girls Stand Strong Michelle Kelley, LCSW, helps girls and women of all ages develop and improve their self-image, self-esteem, relationship and communication skills, emotional understanding, coping skills, the ability to handle difficult situations and people, and resiliency to create a brighter, better and more successful tomorrow. For more information about Michelle's coaching and counseling services, call (703) 505-2413 or email michelle@girlsstandstrong.com.