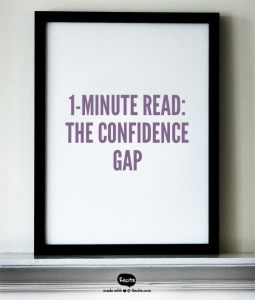 Research shows that females are less confident than males.  In my book, confidence is as important as competence.
I was not confident as a child or a young adult.  I felt held back, frustrated, stuck, confused and hopeless at times.  I learned how to be confident through a winning combination of right-thinking and action.
It also helped having an awesome therapist who helped me navigate through difficult mental terrain and many challenging transition periods (such as school, marriage, parenting, divorce, business ownership). I continue to work with an awesome therapist because I'm certain there is more to come in my life where I will want and need her guidance.
How confident are you?
Why do you think you have shaky confidence (in certain areas)?
Do you know how to build your self-confidence?
I want to empower females to catch up to the guys in the area of CONFIDENCE.  We can do it!  
Need some support and guidance?  I would be happy to help you on your confidence journey.
---
Licensed counselor and founder of Girls Stand Strong Michelle Kelley, LCSW, helps girls and women of all ages develop and improve their self-image, self-esteem, relationship and communication skills, emotional understanding, coping skills, the ability to handle difficult situations and people, and resiliency to create a brighter, better and more successful tomorrow. For more information about Michelle's coaching and counseling services, call (703) 505-2413 or email michelle@girlsstandstrong.com.