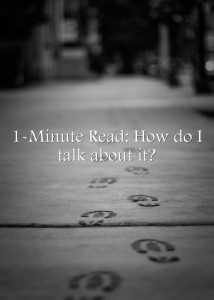 Do you have any idea how many women – just like you – find it difficult to talk about their struggles, their hurts, their perceived failures, their damaged relationships, or their deep emotions like sadness and anger? A lot. You are not alone. Many of my clients struggle in this area.
I get it. It's not light-discussion time.
Maybe you don't know how to bring up the topic.
Maybe you're dealing with a trust issue.
Maybe you do not want to burden someone.
How do you talk about personal things and feel okay about it?
The language of emotions and clear communication is a powerful combination. This is a learned skill and a necessary one. It's what we women need in order to feel confident in today's world. Women who are connected with their feelings and can advocate for themselves are happier.
This is a process that usually starts in childhood – but if you did not get it then, it's never too late. I teach girls and women how to do this.
Is it your time to learn how to talk about the more private side of your life? You'll be surprised at how relieved you will feel.
Please email me or 703-505-2413. I would love to hear from you.
---
Licensed counselor and founder of Girls Stand Strong Michelle Kelley, LCSW, helps girls and women of all ages develop and improve their self-image, self-esteem, relationship and communication skills, emotional understanding, coping skills, the ability to handle difficult situations and people, and resiliency to create a brighter, better and more successful tomorrow. For more information about Michelle's coaching and counseling services, call (703) 505-2413 or email michelle@girlsstandstrong.com.