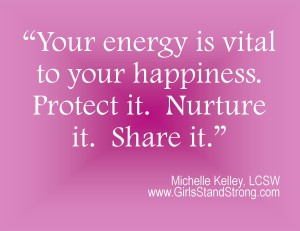 There are three main areas to look at:
Your activities.

  Are you spending too much time doing things that drain your energy?  Most of us do.   Look for ways to scale back, ask for help, delegate or say NO.  Choose activities which give you energy.  This could be anything you find enjoyable or relaxing.

Your thoughts.

  So what are you thinking?  Are your thoughts positive, negative or anxious?  Something else?  You CAN control your thoughts.  Begin by being mindful of them.  Your thoughts feed into your emotions which contribute to your energy level.

People.

  Who are you spending time with in person or on social media?  Limit the amount of time you spend with people who cause you stress in some way.  When you have a choice, select people who lift you up, inspire and support you.  They will give you energy and inspiration.
You are in control.
Your energy is vital to your happiness.  Protect it.  Nurture it.  Share it.
Need help asserting your voice?  You and I should talk.  Please contact me via email or phone 703-505-2413 to arrange an appointment.
---
Licensed counselor and founder of Girls Stand Strong Michelle Kelley, LCSW, helps girls and women of all ages develop and improve their self-image, self-esteem, relationship and communication skills, emotional understanding, coping skills, the ability to handle difficult situations and people, and resiliency to create a brighter, better and more successful tomorrow. For more information about Michelle's coaching and counseling services, call (703) 505-2413 or email michelle@girlsstandstrong.com.