Do you feel stuck, hopeless or frustrated in your relationship?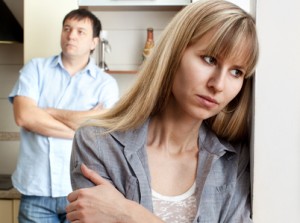 Very little has been written on the topics of empowered women and healthy relationships outside the world of business and the workforce.
The 1940s version of an empowered woman focused on her physical accomplishments more than her emotional well-being or the health of her personal relationships. The iconic Rosie the Riveter poster spoke to women's changing role in the workplace, where they were rising to the challenges of performing traditional "men's work."
In the 1960s, Betty Friedan spearheaded the feminist movement, prompting more and more women to question their traditional roles as homemaker and mother, and seek more fulfilling educational and career opportunities. In the 1990s, Hillary Clinton introduced the possibility that a woman could, indeed, be elected President of the United States.
Today's empowered woman knows that she deserves – and knows how to command – respect in all relationships. She does not define herself only by her accomplishments in the world (Olympic gold medalist, Secretary of State, Company President or Chairwoman, etc.), no matter how amazing her accomplishments.
An empowered woman:
Listens to and honors her inner voice, and uses her outer voice to express herself positively in     all of her relationships
Recognizes her strengths and embraces her weaknesses.
Does not tolerate disrespectful or contemptuous behavior in her relationships because she values her time and energy.
Avoids emotionally-draining relationships and negativity.
Understands that the choices she has made in the past have created her current situation and knows that she is able to create a different future for herself.
Believes she deserves — and is capable of achieving — success in life, as she defines success for herself.
True empowerment for a woman comes from knowing how you feel and then being able to communicate your needs and feelings appropriately. You express yourself more fully and authentically in all your relationships — with your husband, children, parents, siblings, romantic partners, friends, and colleagues in the workplace. You know when to say 'no' and where to draw the line. You recognize your own needs and ask for help when necessary.
If you have not learned how to communicate your wants and needs effectively in your relationships, you likely feel stuck, hopeless or frustrated. Communication is oxygen in a relationship. Without it, the relationship will die.
Many women I have counseled in my private practice have confided in me that they feel their situation or relationship is hopeless, or that their husband or another key person in their lives won't listen. Many of my clients have chosen to silence their voice, out of a feeling of hopelessness or despair. They may feel overpowered, threatened or invalidated in her key relationships.
I have traveled the road of personal disempowerment, and I know the obstacles women encounter along that road. Through education, guidance and support, I help women just like you create positive change in themselves first and their relationships second.
Please reach out to me for assistance if you're ready to become one of today's empowered women. You may contact me via email or phone 703-505-2413 to arrange an appointment.
---
Licensed counselor and founder of Girls Stand Strong Michelle Kelley, LCSW, helps girls and women of all ages develop and improve their self-image, self-esteem, relationship and communication skills, emotional understanding, coping skills, the ability to handle difficult situations and people, and resiliency to create a brighter, better and more successful tomorrow. For more information about Michelle's coaching and counseling services, call (703) 505-2413 or email michelle@girlsstandstrong.com.