Dating Advice for Girls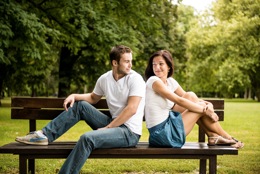 Many girls desperately want to hear the words "I Love You" from the person they are dating.  I get it.  That's normal.  It's nice to feel loved and to hear those words spoken.  But there is so much more to a healthy relationship.
Actions speak louder than words.  This is the best advice I can give to a girl as she begins to explore the dating world.  What he does is more important than what he says.  Do his actions make you feel loved?  How does he treat you around his friends?  Does he respect you?
Watch his actions carefully.  Pay attention to how he treats his friends, his enemies, strangers and his family.  This information is an indicator of the future — of how he will treat you when the romance and newness fades away.
The following are some tips to keep in mind as you date:
Take it slow.  A relationship that is allowed to slowly evolve is more likely to be a quality relationship.  The ones not worth the wait will leave or you may choose to move on.
Eyes wide open.  Keeping your eyes wide open in a relationship means that you won't be blinded to some possible warning signs of a controlling or abusive personality type.
Hold onto your friends and your life.  Yes, the tendency is to want to be with only him 24/7, but if you do you are likely to burn out quickly.
Relationships need room and air to flourish.  Guys like the anticipation of seeing someone they like.  This intensifies their attraction to you.  So don't rob him (and yourself) of this experience.
Lastly, keep the relationship in perspective with your life.  What are your goals and future plans?  Stay true to your own path in life.  If someone is worth the wait, they will not want you to stop following your dreams and career goals.
Dating is a time to learn about other people as well as yourself.  This is an important time in your life and it should also be fun.  Yes, there will be bumps and heartache along the way — so expect it.  Decide how you want to deal with it when it inevitably arrives.  Being proactive and thinking ahead will strengthen your resiliency.
This is your life! Don't settle for less than you deserve!
If you know a girl who would benefit from dating advice from an experienced life coach, then please contact me via email or phone 703.505.2413.
---
Licensed counselor and founder of Girls Stand Strong Michelle Kelley, LCSW, helps girls and women of all ages develop and improve their self-image, self-esteem, relationship and communication skills, emotional understanding, coping skills, the ability to handle difficult situations and people, and resiliency to create a brighter, better and more successful tomorrow. For more information about Michelle's coaching and counseling services, call (703) 505-2413 or email michelle@girlsstandstrong.com.