1-Minute Read: It's easy to fall in love but…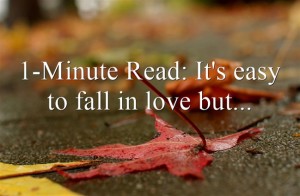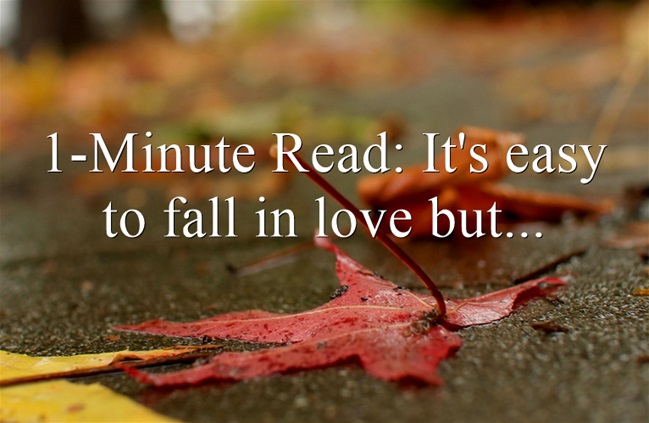 Remember when you were planning your wedding, your future, and your entire life with the love of your life?  You were excited for your future and just knew you would live happily ever after!!!  But then… life happened. You got busy. You had kids.  He lost his job. You had a health crisis.  Your parents moved in.  The list could go on and on.
Unfortunately, many believe that if you really love each other then everything will just work out — easily.  Not so. It's easy to fall in love but it's not so easy to stay in love.
How do you talk to someone who you feel annoyed with because they keep leaving the toilet seat up or they never remember to wash the dishes? Or they talk to the TV more than they talk to you?  You used to want sex, but now…?  The way you used to discuss issues may have worked years ago, but not any longer.  What's happened?
These are common scenarios in relationships.  Talking to someone when you are mad, hurt, angry, or confused is not easy.  You are likely to make the situation worse because you will be leading with your emotions.
It takes knowing what to say, when to say it and how to say it.  It takes knowing what to do when you don't feel heard or see no real change.
It also takes really listening to your partner's words without getting caught up in their attitude, defensiveness or lack of words.
Here is a tip:  When you are really upset, DON'T TALK.  It is ALWAYS okay to nicely state that you are not in a good place to talk right now.
Of course, you will need to set a time to discuss the situation later. Do not let it linger.  In the meantime, you will need to clear your head.  Talking to someone with an unbiased opinion can help you see the situation for what it really is.
Need to talk?  Please let me know.  I would love to coach you through your relationship struggles and communication speed bumps.
---
Licensed counselor and founder of Girls Stand Strong Michelle Kelley, LCSW, helps girls and women of all ages develop and improve their self-image, self-esteem, relationship and communication skills, emotional understanding, coping skills, the ability to handle difficult situations and people, and resiliency to create a brighter, better and more successful tomorrow. For more information about Michelle's coaching and counseling services, call (703) 505-2413 or email michelle@girlsstandstrong.com.